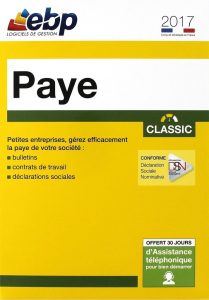 Prevent mistakes and ensure constant payroll compliance
Say goodbye to payroll mishaps. With this software, all your entries and calculations will be fully compliant with existing regulations.
As an official payroll statement pilot company since 2013, EBP is working with the government to support businesses with their payrolls. EBP is proving its ability to stay ahead of the game and innovate, adapting payroll systems to the most recent legal standards. From now on you will be able to generate hassle-free payroll documents with this software.
Draw up payrolls quickly and easily
Adapt and produce your pay slips easily. With this software, you can enjoy ready-to-use models which can be adapted to the employee profile (apprentice, simplified executive and non-executive pay slips).
Enter your employees leave periods and absences and the counts will be made automatically
Leave periods and absences can be entered easily from the payslip. You can manage all kinds of absences (N & N-1 paid absences, illness, paternity leave, etc.). The calculation for each absence can be done by various methods.
Keep precise tracks on your business's salary situation.
Keep tabs on your payroll with quick and effective data checks. There are numerous print-out options available for optimal control of your payroll: male/female expenses distribution, payroll book and journal.
Transfer your payroll entries in a few clicks
You can export your payroll entries without having to rekey the format of your own or your Chartered Accountant's accounting software.
* Requires subscription to a Service Offering (PRIVILEGE or PREMIUM).
For direct remote transmission of your payroll documents, you will need PRO version or better and will need to sign up for a service offering (PRIVILEGE or PREMIUM) and the remote declaration service.
** EBP, ITOOL, CEGID (Sisco et PGI), SAGE LIGNE 100, COALA, CCMX (Winner et AS400), CIEL, QUADRATUS, ISAGRI, AZUR, CADOR-DORAC, APISOFT, COTE OUEST, GESTIMUM, INFORCE