NieR: Automata is a new approach to all action role playing games that blends a captivating story with thrilling action phases. Sequel to the very popular 2010 title NIER, NierR: Automata developed in collaboration with PlatinumGames Inc. The game's dream team is composed of producer Yosuke Saito (DRAGON QUEST X / NIER), the director YOKO TARO (Drakengard / NIER), the character designer Akihiko Yoshida of CyDesignation, Inc. (FINAL FANTASY XIV / BRAVELY DEFAULT), the game designer, Takahisa Taura, from PlatinumGames Inc. (Metal Gear Rising: Revengeance), and composer Keiichi Okabe of MONACA, Inc. (TEKKEN / Drakengard / NIER).
Story line:
Invaders from another world attack unexpectedly and discharge a multitude of mechanical life forms. Faced with this seemingly insurmountable threat, humanity has no choice but to leave earth and take refuge on the moon.
Humans develop an army of androids soldiers to defeat the mechanical horde, but unfortunately only succeed in slowing down their advance. To break this deadlock, a new species of androids is developed: the YoRHa intervention group.
In the abandoned territories, the war between machines and androids rages. A war that will soon unveil the long forgotten mysteries of this world…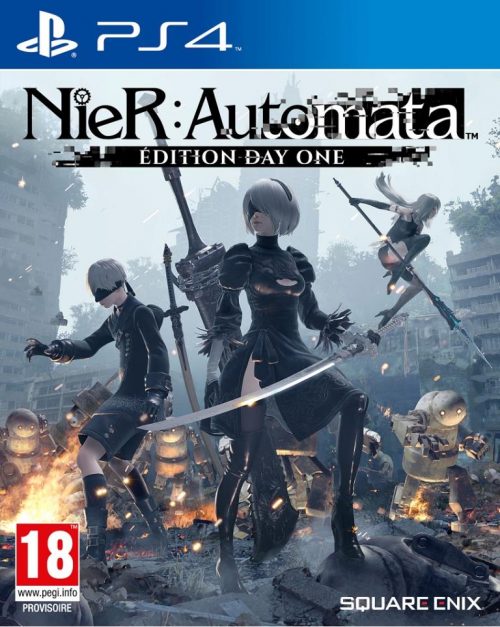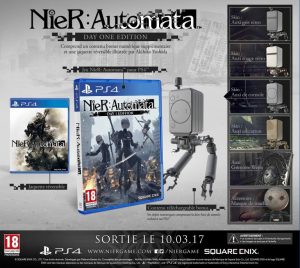 The Day One edition includes the game, as well as bonus digital content:
– skin: Auxi gray retro
– skin: red retro Auxi
– skin: Console Auxi
– skin: Auxi cardboard
– Auxi Grimoire Weiss
– Accessory: Machine Mask
+ a reversible jacket designed by Akihiko Yoshida.