Persona 5 tells the inner and outer conflicts of high school students – those of the game's hero and the group of friends he meets during the course of the story. They lead a double life under the name of Phantom Thieves.
They appear to be rather ordinary Tokyo high school students: they follow their classes, go out to have fun after classes and have odd jobs nearby. But they also take part in extraordinary adventures, using their supernatural powers to enter people's hearts. This power comes from their Persona, the name of the psychological concept described by Carl Jung.
The heroes of the game discover that society is forcing people to wear masks to hide their vulnerabilities, and that it is only by tearing off these masks and facing their true personalities that they are able to awaken the power that is buried within them, in order to use it to help those in need.
Ultimately, the Phantom Thieves seek to alter their daily lives to match their new perceptions and to see through the masks of modern society.
The premium edition contains: 
– The "Take Your Heart" Premium edition includes: An original soundtrack – a CD selection of music by Persona 5, signed by the legendary composer Shôji Meguro, in a cover in the colours of Persona 5.
– A plush key chain: Morgana the cat is not just the mascot of the Phantom Thieves; he's also a member! And he's not just a simple cat, either. The Premium edition contains an exclusive Morgana plush (size: 10cm).
– A 64-page hardcover of illustrations: a booklet packed full of conceptual illustrations, character drawings and other works by character designer Shigenori Soejima.
– A SteelBook casing: so it can be kept safe, the PS4 game disc is housed in a special metal case in the colours of Persona 5 + A bag: designed according to traditional Japanese school bags, this exclusive bag features the Shujin Academy badge.
– A collector's box: the "Take Your Heart" Premium edition is delivered in a huge collector's box, probably the biggest in the history of ATLUS!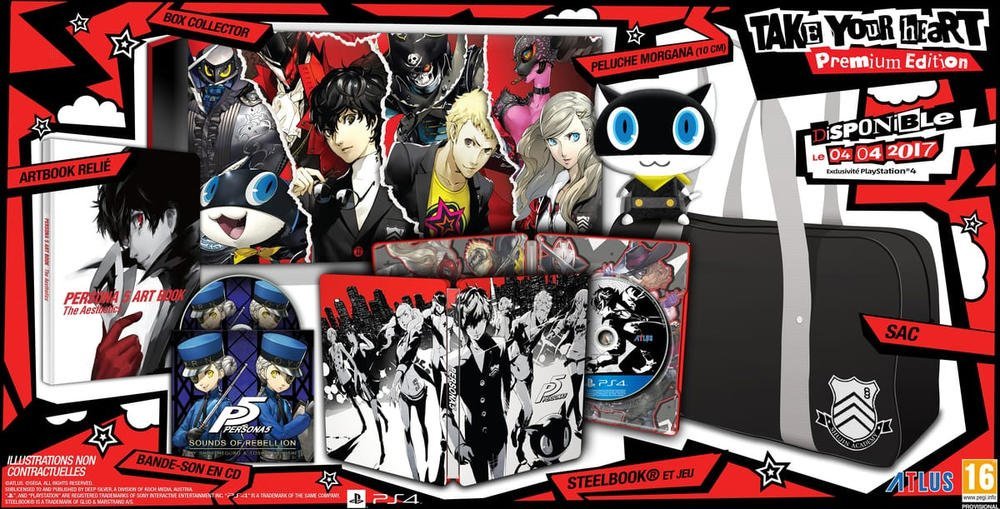 Voices and texts in English.