Kate Walker – the young New York-based lawyer heroine from Syberia 1 and 2 – unconscious and adrift in a makeshift boat after escaping from the island of Syberia. She is retrieved by some nomads – the Youkol, who live apart from the world according to ancestral traditions – whom she decides to accompany in their exodus to lead the snow ostriches to the impenetrable sacred steppes where they will be able to reproduce.
It is a journey through alternately enchanting and devastated landscapes that will make the young woman experience her most dangerous and wonderful adventures, constantly followed by her pursuers, who wish to take her back to her old life…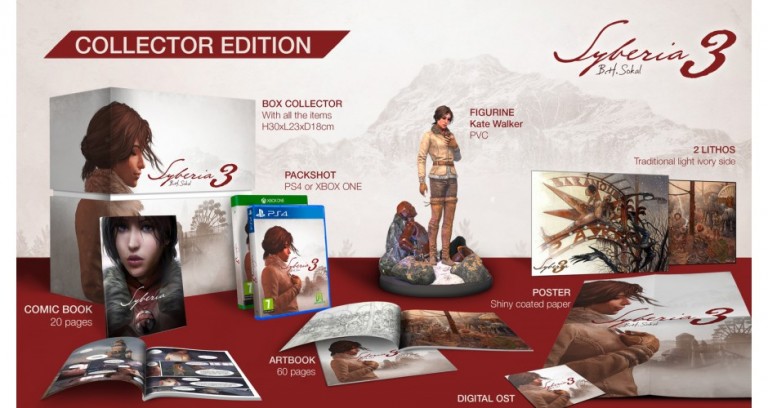 In addition to the original game, the Collector's Edition of Syberia 3 contains:
– A collector's box (30 x 23 x 18cm).
– A 20-page comic book.
– A 60-page artbook.
– A PVC figurine in the image of Kate Walker.
– 2 lithographies.
– A poster.
– The original soundtrack of the game.
– Syberia 1 & 2 (in the PC Collector Edition only).